Transition: When Hip Hop Artists Become Actors.
"Hollis to Hollywood.. but is he good?"
Excerpt from LL Cool J's verse on Craig Mack's "Flava in Your Ear (Remix)."
As of 2017, plenty of celebrities who have roots in Hip-Hop performance are now mainly known for their acting roles. Generation Y and Z young folks seem to casually accept the notion of seeing someone in concert, hearing them online, or hearing them on the radio, then seeing them in a guest spot on a popular sitcom or drama. Over the years, the reaction of Hip-Hop music fans to the genre's stars embracing acting as a profession has varied from outright elation to outright indifference. But who has fared better in the transition, over time—Hip-Hop musicians from the 1980's, the 1990's, or the 2000's?
A string of Hip-Hop related films hit theaters by mid-decade: Wild Style, Beat Street, Breakin', and Krush Groove all made their impact with the music's followers; though certainly in retrospect the acting skills of the principals involved were of debatable quality.
The Fat Boys (who were featured in Krush Groove) were the first hip-hop act to get spun off into their own film, 1987's Disorderlies. The screwball comedy featured the Brooklyn-bred trio as bungling home-care orderlies looking after an aging billionaire. Box-office results were modest, and the guys eked out a few television guest-spots until they finally broke up. Internet-detectives can find footage of the boys kicking it on Miami Vice and the Leon Isaac Kennedy vehicle (yes, seriously) Knights of the City.
Run-DMC and Russell Simmons self-financed the nod-to-blaxploitation, Tougher than Leather in 1988. The film cast the band as themselves, rocking shows and getting street revenge on crooked concert promoters. The limited box-office run was profitable for the band and New Line Cinema, though there are more than a few cringe-worthy moments. The band would have a cameo in 1993's Who's the Man but that was basically the end of their acting stints (unless you count Rev. Run's reality show Run's House, but of course that's not scripted, right?)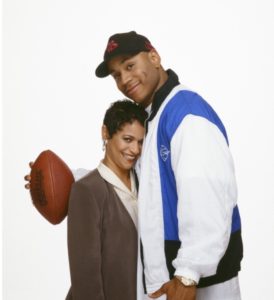 "I guess I need a TV show to get mines… but I don't feel like kissing no director's behind," growled LL Cool J on "Ain't No Stoppin' This", an album cut from his 1993 LP 14 Shots to the Dome. Roughly two years later, he had a starring role with Debbie Allen on the family sitcom In the House. LL (James Todd Smith), one of rap's first sex-symbols, first hit the big screen in Krush Groove in '85, followed it up with a performance cameo in Goldie Hawn's Wildcats, and by decade's end was playing a cop with Michael J. Fox in The Hard Way. After his sitcom run was over, he segued into a number of film roles, including the shark thriller Deep Blue Sea and romantic comedies like Deliver Us from Eva But TV finally came calling again, and LL flexes his muscles as a Navy investigator on NCIS: Los Angeles.
West coast Hip-Hop pioneer Ice-T (born Tracy Marrow) had rap-performance roles in both Breakin' films in 1984. By the late 1980's he became a breakout star of the burgeoning Hip-Hop sub-genre of gangster rap, and so the conceptual cleavage was glaring by 1990 when second-generation film actor and director Mario Van Peebles approached Ice to play renegade narcotics detective Scotty Appleton in the action film New Jack City. Temporarily replacing his perm with weaved dreadlocks, Ice's turn as a hardcore cop going up against Wesley Snipes' smooth dope dealer Nino Brown was accepted by audiences, and his film career took off, with lead roles in Trespass and Surviving the Game soon to follow.
Apparently embracing his B-movie appeal, Ice would find work in a string of straight-to-cable and/or DVD features and guest-appearances (such as New York Undercover), until hitting the supporting-role jackpot as a sex-crime investigator on NBC's Law & Order: Special Victims Unit. 2011 finds Ice having played the role of the dramatically-named Odafin "Fin" Tutuola for 10 years and counting.
Obviously, the 1980's biggest Hip-Hop performer turned thespian is Will Smith. With DJ Jazzy Jeff at his side, Smith (as the Fresh Prince) hit gold and platinum with a string of well-received rap albums in the late 1980's. A scrape with near-bankruptcy by the end of the decade (Smith has since admitted to having a spendthrift attitude back then) led him to figure he had nothing to lose when he was approached with what became the Fresh Prince of Bel Air TV show. It was a gamble that paid off exponentially. Smith seamlessly segued from his sitcom beginnings to lead roles in Bad Boys, Independence Day, and Men in Black (to name a few), cementing him as a bankable box-office icon.
Smith picked up where Eddie Murphy left off, adding some long-overdue cultural diversity to Hollywood's action hero fraternity. Despite a few hiccups like Wild, Wild, West and 7 Pounds, Smith has a virtually unblemished box-office record. For a time, his high-profile status as an actor helped resuscitate his career as a musician. His late 90's solo LPs Big Willie Style and Willennium hit multi-platinum status on the charts and yielded several radio hits. Smith has also managed to snag Academy Award nominations for Best Lead Actor in 2001's Ali and 2006's The Pursuit of Happiness.
Lately, Smith has also added the title of film and TV producer to his resume. Films that his Overbrook Entertainment has produced (without Will Smith starring as an actor) include The Secret Life of Bees, Lakeview Terrace, and The Karate Kid (starring Smith's son Jaden.) No, despite Leonardo DiCaprio's declaration in Titanic, Will Smith is easily the 'king of the world', and the world he comes from is Hip-Hop.
Next, a look at Hip-Hop's Acting class of the 1990s—
Christopher 'Hype' Currie
Twitter: @Hypestyles
Blog: Http://Hypestyleshomebase.blogspot.com