The mainstream Hip-Hop landscape in the year 2003 was fairly bare compared to what we are seeing today. At the beginning of the calendar year 50 Cent released his major label debut album "Get Rich Or Die Tryin" that shook up the world to say the least. Later that year Outkast released their highly anticipated double album "Speakerboxxx/The Love Below" that went on to become a 10 million record selling success as well as a critically acclaimed success. Even with all this going on the talk of the Hip-Hop world was the retirement of Jay Z. Was "The Black Album" really going to be the last Jay Z album like he was claiming it would be? Was it a good time for Jigga to step away from the mic? Who was going to fill the void that Jay was leaving in the game at the time? With 50 Cent being the new face of New York Hip-Hop at the time New York Hip-Hop was changing. More and more regions were getting airplay on New York radio while less and less New York Hip-Hop artist were getting burn on New York radio.
So, why would Hip-Hop's most elite artist of the time choose a time like this to walk away from the game? I have a theory and it's simple, Jay Z's 2003 retirement was about Shawn Carter transitioning from a Hip-Hop artist to a full fledged businessman. The most noticeable thing you can see from a fan's perspective in the post "The Black Album" Jay Z in comparison to pre "The Black Album" Jay Z is the absence of Roc-a-fella Records co-founders Kareem "Biggs" Burke and Damon Dash in future Jay Z musical ventures. I guess it can be said that Jay stretched the game out etched their names out and put Jigga on top. During Jay Z's three year retirement he dropped a few memorable guest verses that were all about his ambitions to go the corporate route. "Dear Summer" from Memphis Bleek's "534" album being the first to come to mind. Dear Summer is a love song where Jay Z is giving his proper goodbyes to the game that got him on his feet and kept him from being a statistic. Jay referred to his position as President of Def Jam Records by saying he was going to give this corporate thing a shot. A very bold step for a Hip-Hop artist to take a President position at their parent company. A very unpopular decision from his peers both artist and executives alike. Executives felt that Carter didn't have the experience and artist felt that there was a conflict on interest in Jay Z taking on that position.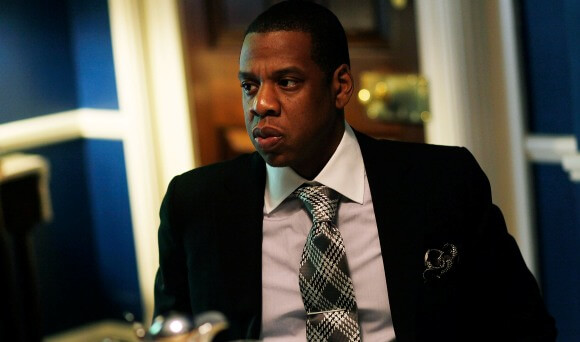 Even as acting President of Def Jam Jay Z dropped an epic verse on Kanye West's 2005 remix of his hit single "Diamonds" to let doubters know that Roc-a-fella Records was still alive and well. The Roc roster was much different than The Roc crew that bum rushed Hot 97 in the early 2000's with a freestyle takeover. On this roster Kanye West was placed as the center piece for The Roc. The new retooled Roc-a-fella lineup Jay Z boasted about on the "Diamonds (Remix)" included Kanye West, Foxy Brown, Young Gunz, Freeway, Memphis Bleek, Peedi Peedi, and Tiara Marie. As Jay Z rhymed "people lining up to see the titanic sinkin/ but instead we rose from the ashes like a Phoenix" symbolizing his triumphant return to the game, this time in the form of the businessman Shawn Carter. For those that questioned Jay Z's experience as a businessman he had a bar for them as well, "I sold kilos of coke so I figured I could sale CDs".
Tho Jay Z's tenure as President at Def Jam was short-lived it gave birth to some big names in music including Rihanna, Jeezy, The Dream, Rick Ross, and Kanye West to name a few. Jay Z's aspiration in taking on the President position at Def Jam was the building block for the super powers that Jay Z currently owns today, like Roc Nation and TIDAL. Although Jay Z didn't stay away from music totally like a retired person traditionally would, he did transition himself from being a rap superstar to being a major force in business. No longer were we getting the Jay Z that kept us fed with jammin product for eight straight Summers. We are now getting the Jay Z that makes music in between business ventures when it makes business sense. That is what "The Black Album" retirement was a retirement from, and what an amazing job Shawn Carter has done recreating himself over the years.