Fashion and Hip-Hop have gone together since the beginning of the microphone and turntable relationship. But it wasn't until the late 90s that Hip-Hop could say it had a style of their own. In 1989, Cross Colors was introduced, breaking the floodgates open to Urban Streetwear. Not just in the Hip-Hop community, but for the black population as well. Looking back, can you name a rapper or entertainer who didn't sport any of the major black-owned lines?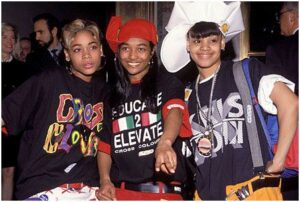 If Cross Colors weren't your thing, designer Karl Kani took it a step further when he branched out and debuted his own line in the same year. With Cross Colors and Karl Kani keeping everyone fresh, it was just a matter of time before others began to put their hat in the fashion ring.
With Karl Kani still booming, we would be introduced to more lines like Phat Farm (1992), FUBU (1992), Mecca (1994), and Ecko (1994) before Hip-Hop artists themselves began to get into the game with Rocawear, Wu Wear, and Sean John.
The 90's fashion scene for the Hip-Hop community was at its best back then. The styles were subtle in the early stages but with companies like FUBU making a mark, they became more bold. It wasn't before long that the outside world wanted to get their pockets lined with our culture's money. Despite the success of these early brands in Hip-Hop, they still begin to fade out.
Lines that were not meant for the black and Hip-Hop community became the norm as FUBU, Karl Kani, Rocawear, Ecko, and all the others had a hard time fighting off the likes of Polo, Nautica, Eddie Bauer, and Tommy Hilfiger. Here we are decades later and nothing has changed. While black clothing brands are still relevant in the community, Hip-Hop is still promoting the non-black lines.
While Hip-Hop has been a male-dominated scene since its inception, female rappers have always been in the mix. And for that, Baby Phat was also a staple in the Hip-Hop and black community. It was a genius move by Russell Simmons and his wife Kimora Lee Simmons. However, it wasn't too long before that had to fade into the background. Since then, there have been rappers with their own lines like Busta Rhymes (Bushi), T.I. (AKOO) 50 Cent (G-unit), Lil Wayne (TRUKFIT), Nelly (Vokal), and more but as quickly as they have jumped on the scene, they faded out as well.
Maybe, just maybe no line will ever match what went down in the late 80s and early 90s. But one thing will always be there. People love Hip Hop and they love fashion. As long as we're breathing air, consumers will need something to wear.